How to switch versions
Hello, necromancer!
At the moment, the game is as close as possible to the final version. Iratus went through many changes to become what he is now.
In this regard, the save created on the old version of the game will conflict with new mechanics and objects.
But, if you want to finish your old save before evaluating the latest version, we suggest you switch to a separate branch with the old version. Remember: after you defeat the Pyromancer and exit the third floor, the save will be automatically deleted.
Old version is 162.01
How to switch to the old version:
Steam
1. Open Steam and in your Library right-click (or click the gear on the right side of the game page) Iratus: Lord of the Dead. You will need to mouse over to the Properties:

2. Open the BETAS tab and in the drop-down menu choose the branch 162.01, then close the window

3. Wait until Steam has finished downloading the old version. The version name will appear in square brackets near the game name:

If it doesn't happen, you should restart Steam.
---
GOG
Open GOG Galaxy, find Iratus: Lord 0f the Dead, click on Preferences icon > Manage installation > Configure...

Then go to "Installation" > "Beta channels" and choose 162.01 branch > OK, and wait until GOG download it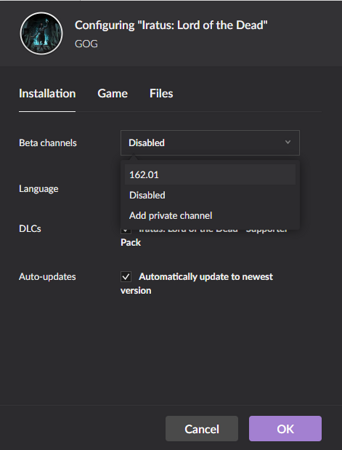 If you use GOG web version, just download version 162.01.03