Announcement of the new enemies, bosses and floor from Wrath of the Necromancer
22.10.2020 18:24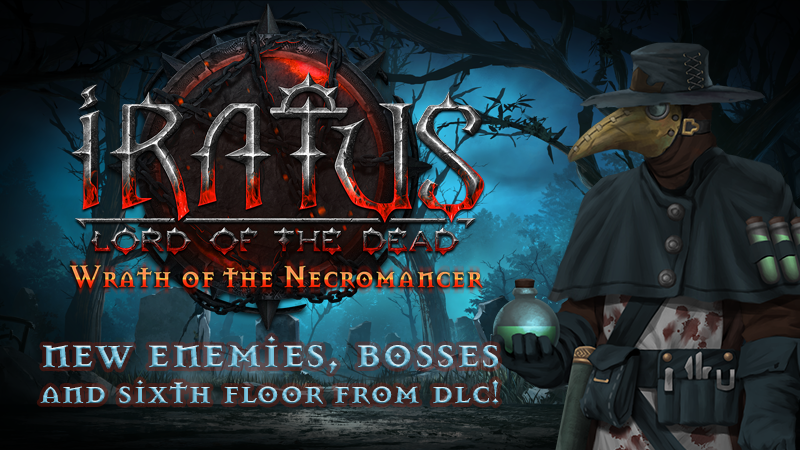 Hello, necromancers!
Less than a week left until the release of our first DLC
Iratus: Wrath of the Necromancer
— at 6 PM CET (or 5 PM UTC) on October 26th all new content will become available to its owners!
We've revealed two new minions in the previous blogposts —
the Reaper
and
the Abomination
, and also new alchemy mechanics,
the Battle Potions
.
Additionally,
there will be
additional skins for 17 minions, new items and artifacts and a new game ending with an additional outro video and story content, included in the DLC.
And of course, the core of this DLC:
new enemies, bosses and a brand new sixth floor
. Let's learn some more about them today.
Two-position enemies
On all of the old five floors, we will add one large and impressive enemy: an Ogre, Automaton, Fallen Knight, Wurm and Cavalryman.
All two-position enemies can't be moved and take up two adjacent positions. They all have their own unique roles and must be explored one by one.
Bosses
New bosses will appear on the first four floors.
On the first playthrough, it's guaranteed to meet them, and in the future, they will randomly alternate with the old ones. In some ways, they are similar to their associates, but there are also completely new mechanics.
Sixth floor
After crushing the Cathedral, Iratus and his undead army will go to the next sixth floor — Cemetery. There we'll meet nine new enemies, including one who takes up two positions — the Amazon.
All enemies on this floor have a Feature which triggers when they die and buff allies or debuff minions.
At the end of the Cemetery, you'll face the epic boss. After defeating it, you'll be able to see the future of Iratus and how his story unfolds.
Let us remind you, that you can preorder DLC Iratus: Wrath of the Necromancer with 15% discount before October, 26th.
We recommend you to join our Discord server: there our communication is the fastest, and players are able to share their thoughts, ideas and the best lineup with each other!
https://discord.gg/iratuslordofthedead