Announcement of the second minion from DLC Wrath of the Necromancer
17.09.2020 17:36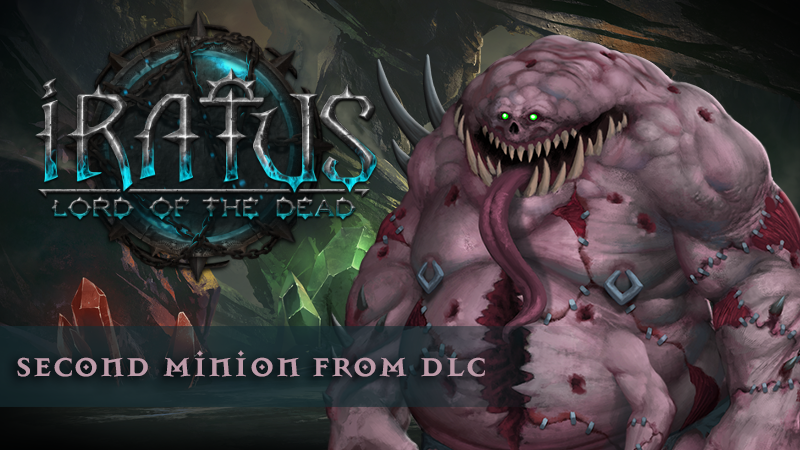 Hello, necromancers!
We're keeping in touch: DLC Iratus: Wrath of the Necromancer, which we plan to release this fall is almost complete and is already testing!
DLC will include two new minions, additional skins, a new Alchemy mechanic — Potion Making, new, including elite and two-positions enemies, alternative bosses, new artefacts and items, and an additional story video.
We introduced the first new minion, the Reaper, and talked about Potion Making in the previous news:

https://iratus.org/latest-news-updates/article_post/first-teaser-for-dlc-wrath-of-the-necromancer

https://iratus.org/latest-news-updates/article_post/update-with-graphical-bug-fix-teaser-of-the-new-dlc-mechanic-potions

Today we will introduce you to the second new minion— the Abomination.
Multifunctional... a lump of flesh that effectively protects allies from attacks, and also instils panic in enemies with its mere appearance.


"War is an eternal mover of progress, especially in the realms of the necromantic. Although Iratus had only recently reemerged onto the stage, he did not waste any time delving back into his favorite hobby: the creation of minions both dread and vile. In his malefic pursuits, the arch necromancer had stumbled upon something he did not expect, the power of a new curse - a curse of flesh. Infused into the bodies of those wretched miners by the alchemists and strengthened through sorcerous experiments, their flesh turned out to be infused with so much lingering pain. It took some study but finally, the results are at hand... the grotesque and putrescent Abomination. Undead flesh forced to grow and deform over and over until it becomes a grisly engine of war."


The abomination uses all its outgrowths to inflict very nasty damage on enemies:




It can easily become more intimidating or destructive, depending on the needs of the necromancer:




Shielding another minion with its rotting mass, it also counterattacks the assaulter:




And of course, weak-minded opponents will be rashly absorbed and disappear in the dehisced womb of this monster forever:




As usual, we ask you to share your impressions!




P.S. Answering the question about the release date of the DLC, we will inform you that we plan to release it in late autumn. Until then, add to your wishlist, so don't miss Wrath of the Necromancer.


https://store.steampowered.com/app/1293280/Iratus_Wrath_of_the_Necromancer/