Devblog #9. Blood Phantasm
06.11.2018 11:05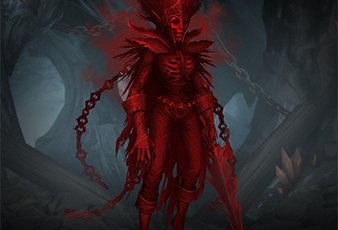 Blood Phantasm — a rather rare example of a naturally occurring undead. Some even theorize that they are actually blood elementals and write many an arcane thesis defending their position.
In reality these phantoms are born from a single desire: revenge. Revenge against those that killed them, which in this case is usually you. However, it is not too difficult to distort their perception of reality, simply making sure they see your form in place of your enemies and appling a few bindings to keep them from harming your minions. Then you have a splendid servant. To be constantly haunted by your face... you almost envy their existence.
This manifestation of revenge that you have brought under your control makes the Blood Phantasm a flexible minion. He is not only capable of dealing a lot of damage but also able to sustain the life of another minions. Since the main goal is to destroy the enemy, it is up to you to decide if the phantasm attempts it himself or with the help of other undead allies.
⠀⠀⠀⠀⠀⠀⠀
It may be said that the Blood Phantasm is a hybrid character, whose capacities can be adapted for your style of play. It's kinda like the Paladin of the undead world. Hence, the new minion advancement system that we talked about in the previous devblog will help make decisions on what role the Blood Phantasm is going to play in your army.

We are currently finalizing the abilities of Blood Phantom and working on its animations.
Furthermore, we've created 2 new backgrounds. One of them you will see on the Dwarven Floor. And another one will appear at the beginning of your journey. Here you will first meet those prisoners who are forced to fight your undead against their will.
That's about it. See you soon!


And if you don't want to skip another devblog, join the mailing list and stay up to date!
Unfrozen Team